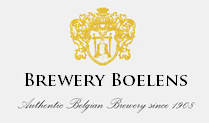 Family tradition since 1800's
The family Boelens, whose brewery is based in the village of Belsele, has been brewing beer since the mid 1800's, in the Waasland region of Belgium. This is the agricultural area southwest of Antwerp, on the west side of the Scheld River.
Kris Boelens, today's owner and brewer at Brewery Boelens, took over the beer distributorship from his dad in 1980. During the 1970's and 1980's a revival for new and authentic beers emerged. Kris started to put the family's old brewery back together and upgraded it with some stainless steel tanks, as legislation in Belgium and in Europe guarantees a hygienic brewing process. It was in 1993 that Kris started brewing his first commercial specialty beer. It has been the home of Blú Blueberry Beer since 2019...